Pest Elimination Beaverton, OR
Don't let pests consume your home!
Experienced Pest Elimination in Beaverton, OR
The Killers have been one of the most trusted names in pest elimination in Beaverton, OR for over 30 years. We are the go-to business for anything pest related in Beaverton, OR. Over the course of our time in Beaverton, we have received happy referrals from countless customers who are pleased with their results. Customers know that our pest technicians are top notch when it comes to identifying and finding pests and the places they hide in your property.
Our skilled pest elimination methods will eliminate the pests and make sure that they will never come back. We will recommend an excellent elimination package that will rid your property of insects, rodents, and other pests you encounter. We take your comfort seriously and we will make sure that your Beaverton, OR home or business is pest free and that you are worry free.
Customized Pest Elimination
We know that there are so many different types of pest elimination needs in Beaverton, OR. We strive to continually bring the highest quality pest elimination service to our customers and make sure that their pest problems are solved effectively. We treat you the same way we would want to be treated! Excellent service is necessary when it comes to pest elimination. That is why we create specific plans for your specific pest problems. We have several different levels of packages for whatever type of needs you require in your home or business.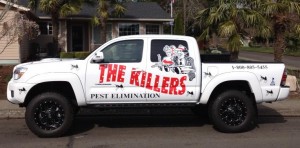 Our Service Packages Include:
Open communication about our products and methods
Full inspection of the premises; free of charge
Removal of the target pest for a minimum of one year, guaranteed
Prepped for Pests
Our technicians have total expertise of the pests in Beaverton, OR and they can effectively eliminate the pests that cause you turmoil in your home or business. We use high quality, low impact products to make sure we can get rid of the pests without causing harm to the surrounding area.
Some of The Pests We Take Care Of:
Rats and Mice
Bees, Wasps, and Hornets
Termites
Spiders
Cockroaches
And much more!
Are you concerned that you may have some critters in your crawl space? Looking in your crawl space is part of our thorough inspection that is included in our service package. We make sure to clean the area, eliminate all pests, and begin fixing the damage that has been done.
Choose Us for your Pest Elimination Needs in Beaverton, OR
Our customers are extremely important to us. You are not just a job; we want to make sure that all your pest elimination needs are taken care of and we want to stop any future infestations that you could be worried about.
Pests are more than just a cleanliness problem. They can carry harmful bacteria and diseases with them and can make your living and/or work space in Beaverton, OR unbearable. Take precedence of your health and well-being and call The Killers today!
Call or contact us for pest elimination in Beaverton, OR today!
At The Killers we also offer Pest Elimination service in:
Albany, Canby, Clackamas, Corvallis, Gresham, Lincoln City, McMinnville, Milwaukie, Newberg, Newport, Oregon City, Portland, Salem, Sherwood, Tualatin, Vancouver, West Linn, Wilsonville, Woodburn, and more!
Located just seven miles outside of Portland and named after Oregon's state animal, the beaver, Beaverton has become a hub for booming technology businesses, and it is home to one of the world's most recognizable brands. Founded in 1893, the area known as "Beaverdam" was home to an abundance of settlers post-Civil War. It was named as such due to the amount of water in the surrounding areas as a result of beaver damming. The town became home to new businesses outside of Portland including car dealerships, a movie studio that was then converted to an airfield, and became a critical part of Portland's mass transit expansion in the 1970's. Today, the city is experiencing incredible growth, being home to almost 100,000 residents. Beaverton is home to a wide variety of large companies in different fields. Nike, one of the world's largest developer and creator of sporting apparel and shoes, is headquartered in Beaverton and remains the city's second-largest employer, second only to the Beaverton School District. Beaverton has also become known as a home to up-and-coming technology companies, establishing itself as a part of the "Silicone Forest". With Beaverton being so close to Portland and having such an extensive and accessible transit system, there are endless possibilities of activities to do!